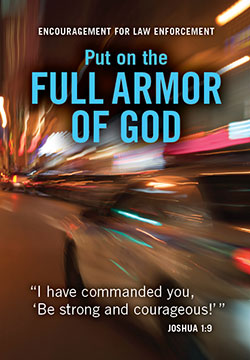 In the aftermath of the police shootings and law enforcement targeting, God's Word to the Nations Mission Society felt that we should produce a specific booklet entitled ENCOURAGEMENT FOR LAW ENFORCEMENT that would be for Law Enforcement Officers at every level... a booklet that would provide them with comfort, peace, and confidence in the course of their dangerous work to protect and serve in these tenuous times.
Similar to GOD'S WORD of Encouragement: Special "First Responder's" Edition, we pray this booklet will provide a large number of the men and women of police and sheriff's departments everywhere with encouraging words that will give them a greater sense of "peace" and "security" as they carry out their important duties.
The booklet opens with 'To the officer reading this booklet: 'Please know that there are a lot of people that you "serve and protect" in communities throughout our nation praying the following prayer for you today. With that knowledge, we pray that you will approach your challenging work with the confidence and real peace that only God is able to provide.'"
If you believe that it would be valuable resource to the men and women of your local law enforcement department, our Society would be pleased to send copies to them on your behalf.
Contact us by email or call us at (877) 463-7967 with your local law enforcement department's Chief of Police or Sheriff's name, address, and phone number. We'll send the books on your behalf.
+++
Finally, receive your power from the Lord and from his mighty strength. Put on all the armor that God supplies.In this way you can take a stand against the devil's strategies. EPHESIANS 6:10-11